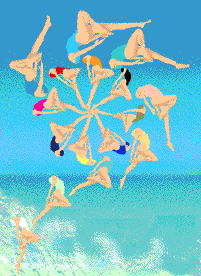 Suggested Poster Concept
for Olympic synchronized
swim team

In the past 20 years we have come a long way from drawing, painting, redrawing, repainting to simply CLICK to see more.
Here are just some of our many and varied graphic. Please note, that most graphics are low in colour count, due to screen printing (7-12 colours)is the grand maximum in ready to wear. Textile label weaving limitations are also low. These are not just pretty photoprints. Technology has and is always moving forward. Graphically we are on top with the usual CAD software and our proprietary software Colour Matters. Contact us we can demo online. Wealso hold our own 300.000+ Photography stock. Not all work can be shown here of what we have output since the early 80s we have work on hand of Brans as well known as "Walt Disney" Silk scarves ties.
---
Scarf Concepts