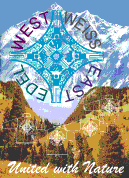 Presentation Book
For every client and every project, we attach great importance to helping any sales person involved in the business by producing the best possible reproduction of the collection in a sales book. This includes colorful cover pages and flat sketches of each style with explanatory text and additional guidance on our visual presentation of labels, prints, hangtags, etc.
Flat sketches are an essential part of visualising a product. Our visual merchandising was applied also to the Down Products Design Studio website, where colour illustrations of the garments in virtual reality settings were set off against black and white flat sketches.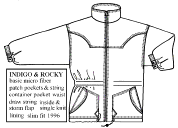 ---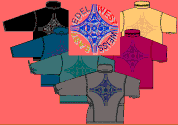 Colour Way Breakdown and Print Positioning
In this particular picture for an Italian client, we used the planned print of the lining as the background to all colour illustrations depicting the colour breakdown.
It is a primary fact that a good colour breakdown in each style will help sell the garment. Therefore we represent our garments in all colour ways in presentation books or seasonal delivery breakdowns, which are very popular in the US.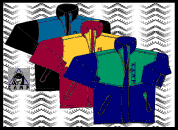 ---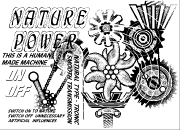 Hangtag and Labelling Concepts
Nature Power was a one-colour print used in a program as seen in our sportswear section. It was fitted on the inside lining and repeated as a cardboard hangtag on the outside of the garment.
Microfibre - This particular graphic shows to what lengths we will go if the budget is right to inform the end consumer of certain positive technicalities which aer part of the purchased garment. We used this graphic throughout the salesmen's book and as a hangtag on specific microfibre garments. We let you be the judge of our exclusive graphic presentation.This label got a Price in JAPAN for it's technical execution as a woven Design.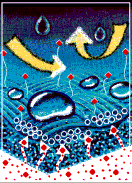 Also check out Sleeping Bag section.
---